Operations
·
Gothenburg
·
Hybrid Remote
Teknisk Projektledare
We usually respond within three days
Vill du vara med på vår spännande tillväxtresa? 🥳
Vilka är Adway?🚀 
Adway är ett ScaleUp-bolag med kontor i Göteborg, Stockholm, och England. Vi brinner för att hjälpa bolag att hitta de bästa kandidaterna på marknaden. Det gör vi genom att attrahera och konvertera topptalanger med hjälp av automatiserad jobbannonsering i sociala medier 🥳
I takt med att vår kundportfölj ökar behöver vi ytterligare en teknisk projektledare för att fortsätta leverera en högklassig onboarding för våra kunder.  
Intressant! Så vad ska jag göra i den här rollen då? 🤔
I rollen som teknisk projektledare kommer du att ingå i vårt Operations team som är ansvariga för att leda onboarding och implementeringen för alla våra nya kunder. Du ingår i ett fantastiskt team med Projektledare inom marknadsföring, content creators samt teknisk support.
I din roll kommer du att teama ihop med kundens ansvariga Customer Success Manager och ansvara för att samla in all teknisk information vi behöver för att påbörja implementationen av vår produkt i kundernas ATS-system. Dina arbetsuppgifter kommer även att innefatta att genomföra förändringar i kundernas pågående projekt.
Du kommer att ansvara för att implementeringar och förändringar sker i enlighet med uppsatta deadlines, kvalitetsriktlinjer och ekonomiska ramar.
Vilka kommer ingå i projekten?
Detta är ett roligt och utmanande jobb där du får leda ett tvärfunktionellt team med Sälj, Customer Success, Tech och marknadsföring!
Du kommer även att vara länken mellan oss och våra kunder genom projekten, detta inkluderar samarbete med vår kunds HR-, IT- och Marknadsavdelningar.  
Jag är intresserad! Vad ska min tidigare erfarenhet bestå av? 
Några års erfarenhet av roll som teknisk projektledare.
Kan enkelt förstå IT kopplat till verksamhet och kan översätta både interna och externa behov till systemkrav.
God förståelse för hur integrationer och API:er fungerar.
En passion för teknik och struktur.
Goda kunskaper i skrift och tal på svenska och engelska
Förmågan att tänka steget före och se bortom gränserna där ingenting är omöjligt!
Dessutom tror vi att du:
Är en problemlösare - som kan möta utmanande och komplexa problem.
Har utmärkt samarbetsförmåga och kan kommunicera tydligt.
En proaktiv initiativtagare som är naturligt nyfiken och vill förstå vår bransch.

Varför ska jag börja på Adway?
Du kommer att bli en del av vår lila familj (som du kanske märkt har vi en grej för färgen lila💜). Vi vet att utan den dagliga passion, innovation och entusiasm som våra anställda lägger ner på sitt arbete, skulle vi inte vara där vi är idag. Vi växer snabbt och det hade inte varit möjligt utan våra fantastiska människor som ser värdet vår produkt ger våra kunder. Du kommer vara en del av en kultur där vi ständigt utmanar oss själva att bli bättre, delar vår kunskap och passion med varandra samt visar hjärta i allt vi gör 💪🔥💜
Vi tror på individuell utveckling och vill att du ska växa i takt med bolaget, därför får du som Teknisk Projektledare möjligheten att utveckla din roll på sikt utefter dina egna styrkor och intressen.
Dessutom får du:
Bli en del av ett snabbväxande ScaleUp-bolag med korta beslutsvägar.
Arbeta med en unik produkt som genererar stort värde för våra kunder.
Ett modernt kontor i centrala Göteborg med gratis snacks och drycker.
Roliga kollegor som älskar att hitta på saker både på och utanför arbetstid. After-Works, Quiz, resor och besök på våra kontor i Stockholm, Polen och London är exempel på aktiviteter vi kan hitta på tillsammans!
Detta är bara början på vår resa; vår vision är att vara den ledande HR-Tech-leverantören inom digital talanganskaffning för storbolag och rekryteringsbyråer runt om i världen. Vi behöver fler talanger och passionerade människor som hjälper oss att nå dit 🚀
Är du redo för utmaningen? Ansök till tjänsten nu och hjälp oss att förändra framtiden inom digital talanganskaffning!

Avdelning

Locations

Gothenburg

Remote status

Hybrid Remote
We usually respond within three days
Related jobs
THE ADWAY FAMILY
Without great people, we wouldn't have great technology and solutions. Talent and knowledge sit at the heart of Adway and our team!

At Adway we've got big goals, great people and a culture that supports your success. At Adway, we include everyone. Whether it's to have fun, brainstorm big, or dream up what's possible — we invest in our people, their progress, and their one-of-a-kind brand.

"We empower each other to think outside the box, boost each other's strengths and have a lot of fun! If you're ready to weigh in on ways to make us even better, you'll love it at Adway." - Sofia Eriksson, Head of People & Culture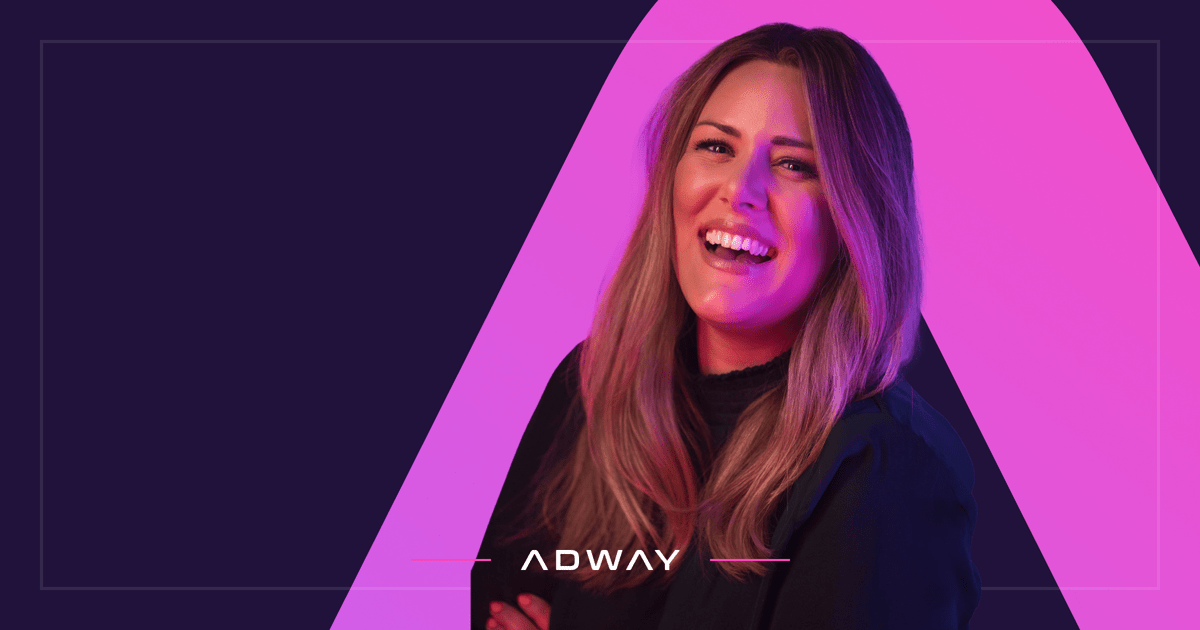 About Adway
We believe it's our mission to connect you with the best talent in the candidate market. We do that by combining social media job advertising, automation, advanced machine learning software and human expertise. As your data-driven talent acquisition partner, we support you in finding, connecting with, and converting relevant talent. All this, while ensuring your employer brand presence increases and you become their employer of choice

Already working at Adway?
Let's recruit together and find your next colleague.